Professional Results




Without Pain
What is Ceconite?
Ceconite is the name of a family of aircraft fabric covering products, all based upon a very special polyester fabric that has become a major industry standard.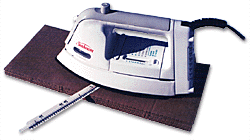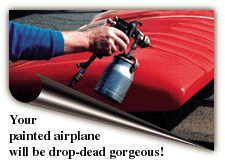 What's So Special About Ceconite?
In a nutshell...


It's stronger than Grade A cotton or linen


It's far more durable than either


It weathers better and longer than either


It's easier to use and repair


Shrinking is predictable and repeatable.
What's That About Shrinking?
Unlike cotton or linen which were shrunk (tautened) by dope, Ceconite is precisely shrunk by heat, using a calibrated clothing iron (shown above, typical iron with thermometer). This lets you control the shrinking, giving you unmatched command of the covering process, producing predictably superior results every time. Because calibrated temperatures are important to the shrinking process, however, you shouldn't use a heat gun, which gives you no control.
Is Ceconite Legal for My Airplane?
Unless it's a real oddball, the answer is YES. Ceconite is FAA approved for use on everything from a Mooney Mite to a DC-3, plus every experimental you can name. The Ceconite manual includes a complete list.
What Cements Can I use with Ceconite?
Nitrocellulose fabric cements such as Ceconite Super Seam work fine. Do NOT try to use straight nitrate or butyrate dope to attach your Ceconite fabric. Very bad idea.
What Coatings Can I Use?
Any nitrate and butyrate dopes you want to use to coat Ceconite must be aircraft-grade NON-TAUTENING types.
What Ceconite Products Are Available?
THREE FABRICS, Each 70 Inches Wide:

Ceconite 101 - 3.7 oz per square yard. For use in the most extreme service conditions. The most puncture resistant of all our styles. Designed for agricultural aircraft, warbirds, or airplanes that operate in the boonies off unimproved strips. Meets TSO C-15d.


Ceconite 102 - 2.7 oz per square yard. For use on most aircraft. Good replacement for Grade A cotton. Suited for all fabric covered aircraft not operating in extreme conditions. Meets TSO C-15d.


Ceconite Light - 1.7 oz. per square yard. Our lightweight fabric is recommended for covering plywood surfaces on any aircraft and any ultralight aircraft that is not certified. This fabric will be unstamped. It is not approved for certified aircraft.
SURFACE TAPES:

Ceconite 102 Pinked Edge Tapes - Available in widths from 1 to 6 inches, in 25-yard rolls. The 2-inch roll is 50 yards long.


Ceconite 102 Straight Edge Tapes - Available in widths from 1 to 6 inches, in 50-yard rolls.


Ceconite Light Pinked Edge Tapes - Available in widths from 1 to 6 inches, in 25-yard rolls. The 2-inch roll is 50 yards long.


Ceconite Bias Tapes - Available in widths from 2 to 4 inches, in 25-yard rolls. Great for taping curved areas.
OTHER PRODUCTS:

Ceconite Reinforcing Tape - Helps fabric resist cuts by rib lacing, pop rivets, and PK screws over rip caps. Comes in 1/4", 3/8", 1/2" widths. Polyester, sticky back.


Ceconite Anti-Chafe Tape - Masks and smoothes sharp edges or protrusions under fabric from wear or punctures. Comes in 60-yard roll.


Ceconite Inter-Rib Bracing Tape - Stabilizes ribs prior to covering. Comes 3/8" wide on a 36-yard roll.


Ceconite Machine Sewing Thread - For envelopes, sewn seams, and repairs. 10 lb tensile strength, 4-ply thread. 500 yards per spool.


Ceconite Hand Sewing Thread - 15 lb tensile strength, 3-ply thread. 250 yards per spool.


Rib Lacing Cord - Round 4-ply cord, .035", 60 lb strength. 500 yards per spool. The best you can buy.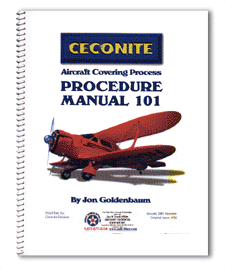 ALSO AVAILABLE:

Calibration Thermometerssw


Self-tapping Screws|


Inspection Rings & Covers


Polyester Padding


Various Blind Rivets


Various Grommets

Is There a Ceconite Instruction Manual?
You Bet! We took the original 1958 Ceconite manual and completely rewrote it... in clear plain English with plenty of photos, illustrations, and vintage cartoons. It covers the whole covering process, including:

Getting Ready
The Goal of This Manual. This Manual and 43.13. Amateur-Built Aircraft. Ceconite Fabrics. Ceconite Finishing. Tapes. Ceconite Markings. Fabric Cement. Ceconite STC Number. Substituting Materials. Coating Systems Approved. Health Issues to Consider. Fire Prevention. A Practical Work Area. The Tools You'll Need. A Fuselage Holding and Turning Jig. Atmospherics and Spraying. Other Things You Should Know.

The Covering Process
Surface Preparation. Attaching the Fabric. Tautening the Fabric. Sealing the Fabric Surface. Securing the Fabric to the Wings. Applying Finishing. Tapes. Inspection Rings and Drain Grommets. Final Smoothing.

Applying the Finish
The Clear Butyrate Fill Coats. Sanding the Fabric. The Silver Butyrate Coats. The Color Butyrate Coats. Protecting and Rejuvenating the Fabric. Covering Plywood Skins with Fabric. Repairing Damaged Fabric. Painting Aluminum and Fiberglass. Click here to view the choice of 50 brilliant colors... all available in all three types of Poly-Fiber Paint.

The Ceconite STC Certificate


FAA Form 8100-1


Eligible Aircraft


Materials Estimates


Ceconite Products


Recommended Reading


Recommended Products
Need Some Help?
As with any Poly-Fiber product, there's always plenty of "been there - done that" technical assistance just a toll-free phone call away. 877-877-3334 plugs you into somebody who really knows the products and how to use them. We'll be happy to give you whatever guidance you need.
©2020 Preferred Airparts, LLC All rights reserved.