Used avionics. We have parted out over 325 Cessna twin aircraft and have hundreds of avionics and (ARC, King, Edo-Century, Bendix) autopilot components, along with power converters, inverters, amplifiers and related systems.
Some tagged, both late and older avionics
Many as removed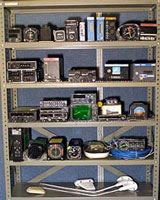 New surplus parts for ARC, Bendix, Collins, Century, EDO, king, Narco, RCA, Sperry, and others!
Over 3500 part numbers of circuit brakers, connectors, crystals, diodes, face plates, I.C's, kits, lamps, plugs, resistors, transistors, vacuum tubes and more including many for older avionics.