There have been many transitions here at Preferred Airparts since our loss of co-owner Ken Stoltzfus Jr., who passed away on July 19, 2011, following emergency surgery for a brain tumor.

From our founding in 1982, Preferred Airparts has been a family business with a commitment to serving God through the resources He entrusted to us. Ken was an important part of helping make that happen.
In order to provide the framework for our original vision to carry into the future, Brian has brought his brother Mark, and Ken's sons Colby and Austin, into ownership in Preferred. Mark has been managing Preferred since fall 2011, in addition to overseeing AFM Hardware, and he will continue in that lead role.
Colby is the Sales Manager and is part of our Administration team. Austin is a licensed A&P, and is managing our Preferred Fabric Division. He has his Private ticket in helicopters and both he and Colby both have their fixed-wing ratings.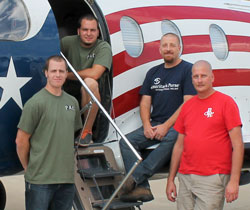 L to R - Colby, Austin, Brian, & Mark Stoltzfus