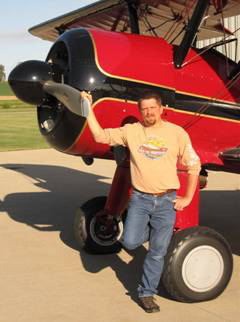 Ken Stoltzfus Jr. was born Sept. 17, 1960, in Coatesville, PA, to Ken and Elaine Stoltzfus. He shared deeply in life with younger brothers Brian and Mark.
Ken was a third generation Stoltzfus pilot and aviation entrepreneur, following
in the footsteps of his grandfather, the late Chris D. Stoltzfus of Coatesville, PA, and his father Ken Stoltzfus (Sr.).
In August 1982 he and his brother Brian joined their dad in founding Preferred Airparts in Kidron, OH. Their dad handed the business off to them in 1985 and Ken played a major role in its growth.
Ken was known as a man of quiet but authentic faith. He lived with a compelling sense of serving God in all he did, so that others could have opportunity to hear and receive God's gift of eternal life. He trusted God's plan for his life and never complained about his battle with cancerous brain tumors. His ability to remain positive and to not be distracted or discouraged by his illness was because of
his focus on things that mattered in the big picture.
Ken's first surgery for brain tumors was at the Cleveland Clinic in December 2004, followed by July 2010 and April 2011 at other locations. Uncontrollable brain swelling after emergency surgery on July 15, 2011, did irreversible damage and Ken Stoltzfus Jr. transitioned peacefully into God's presence on July 19 from the Princeton Baptist Medical Center in Birmingham, AL. He joined his grandparents, and Sheila's and his child lost by miscarriage. He is survived by his wife Sheila and their three children, Colby, Austin and Danae.
We are so thankful for the absolute confidence that Ken is present with our Lord Jesus and that we will see him again one day.
---